Chandler High School is excited to be the first school in Arizona to have the IB Career-Related Program (IBCP).
Beginning with the Class of 2017, CHS students will be able to graduate with the IB Career-Related Diploma.
Here is a link to a presentation about the IBCP at Chandler High School.
Click here to view the IB Parent Page.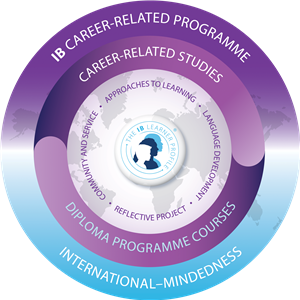 1. IBCP students undertake a minimum of two IB Diploma Programme (DP) courses:
The IBCP students can take any of the Diploma courses offered at CHS.
IB English Literature
IB English Language and Literature
IB Spanish, French, German
IB History
IB Psychology
IB Economics
IB Chemistry
IB Physics
IB Biology
IB Environmental Systems and Societies
IB Computer Science
IB Mathematics
IB Math Studies
IB Visual Arts (Jewelry, Ceramics, Drawing)
IB Film
2. IBCP students choose one career-related field to study during junior and senior years
Engineering
Computer Science
TV/Media Production
Agriculture
Sports Medicine
Marketing/Entrepreneurship
3. IBCP students complete four elements of the IBCP Core:
IB Approaches to Learning course (2 semesters)
Community Service activities
Language Portfolio
Reflective Project - tied to the career field
IBCP Coordinator
Mrs. Anne Bender
480-812-7990
bender.anne@cusd80.com