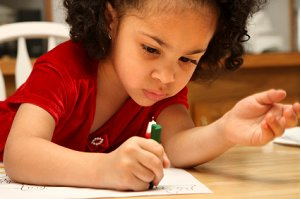 Priority Preschool is an integrated program for typically developing children and children with special needs that is offered 2 or 3 days per week, for 2.5 hours per session. Priority Preschool is provided for 3 to 5 year olds (5 after September 1st) who qualify having special education needs, and typical 4 year olds (must be 4 year by December 31st) without special education needs.
Our DLM Early Childhood Express curriculum is designed to build a child's healthy self-concept and positive attitude toward school and learning. Children develop concrete skills through experiences with music, art, storytelling, and teacher-directed lessons that, in addition to skills development emphasize practice and reflection.
Additional services for our special education children include speech therapy, physical therapy, occupational therapy and individual educational programming in the cognitive, language, motor and social emotional areas designed to meet individual needs.
Children with Special Needs
To be eligible as a preschool special education student, the child must have comprehensive evaluations in suspected areas of delay and meet state eligibility guidelines. Bus transportation is provided and there is no tuition required. If you live in the Chandler School District and have a concern regarding your child's developmental level please call (480) 883-5925 for assistance.
Typically Developing Children
To be eligible, children must be four years old by December 31st of the current school year. This tuition-based program is available to
Chandler
residents and non-residents as well. Parents of eligible children are required to complete a registration packet and meet all immunization requirements before the child can start preschool. Children need to be toilet trained to attend preschool. At the time of registration please bring an original birth certificate and current immunization records to the location in which you had indicated through registering your child online.
**This program is not currently available at Shumway Elementary, but is offered at other locations throughout the Chandler Unified School District.